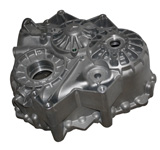 Aluminium Gear box (casing)
Customer: Daimler
Area: Automobil
Production process: Sand Casting
Aluminium Gear box (casing)
Customer Daimler
Scope of work
Reduction of weight through material redistribution
Facts and achievments
The Gear box is a currently mass produced component made of cast iron with a weight of approx. 230 kg. In order to increase the pay load and fuel efficiency of the trucks utlising these components, the weight of the casing must be reduced
Schneider managed to successfully manufacture, mechanical process, X-ray scan and document 5 parts with a geometry of 750 x 650 x 300 mm within a mere 6 weeks.
The new part, also made of aluminium, now weighs approx. 80 kg, which results in a 150 kg weight saving.
Gallery
Details
Less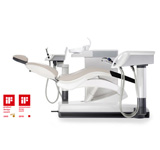 Dental treatment work station
Customer: SIRONA
Area: Medizintechnik

Dental treatment work station
Customer SIRONA
Scope of work
Manufacture of a complete life sized dental treatment work station model consisting of the following components: irrigation unit, dentist's and assitant's module, seat, back rest, head rest and foot rest
Facts and achievments
Extensive stock removal. Material: resol
inxluding finishing and components assemply.
Gallery
Details
Less